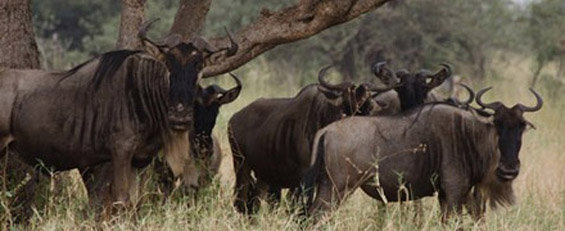 About Tanzania

Tanzania, officially the United Republic of Tanzania (Swahili: Jamhuri ya Muungano wa Tanzania), is a country in East Africa bordered by Kenya and Uganda on the north, Rwanda, Burundi and the Democratic Republic of the Congo on the west, and Zambia, Malawi and Mozambique on the south. To the east it borders the Indian Ocean.
The country's name is a portmanteau of Tanganyika, the large mainland territory, and Zanzibar, the offshore archipelago.
The two former British colonies united in 1964, forming the United Republic of Tanganyika and Zanzibar, which later the same year was, renamed the United Republic of Tanzania.
In 1996 government offices were transferred from Dar es Salaam to Dodoma, making Dodoma the country's political capital. Dar es Salaam remains the principal commercial city.
Tanzania is a safari destination without peer. The statistics speak for themselves: An unparalleled one- quarter of its land dedicated to conservation areas, the game lover's dream. With the world- renowned Serengeti National Park and Incomprehensively vast Selous Game Reserve heading a rich estimation of 20 percent of Africa's largest mammal population.
There is more to Tanzania than just Safaris; Mount Kilimanjaro and Mount Meru, respectively the highest and fifth- highest Peaks on the continent. Lake Victoria, Tanganyika and Nyasa are the three largest freshwater bodies in Africa. Then of course there is the Magical 'Spice Island' of Zanzibar, the highlights of a vast Indian Ocean coastline studded with fringed-perfect beaches and beautiful marine life.
Tanzania's daunting natural variety is mirrored by a cultural diversity embracing 120 distinct tribes: from the iconic Maasai pastoralists of the Rift Valley, to the Arab -influenced Swahili of the coast, to the Hadzabe hunter-gatherers in Lake Eyasi.
Tanzania, for all its ethic diversity, is practically unique in Africa in having navigated a succession of modern political hurdles, the transformation from colonial dependency to independent nation, from socialist state to free market economy.
Climate

The Tanzania climate is generally tropical but temperate in highlands. The Central plateau which lies 900-1,500 meters above the Sea level is dry and arid with hot days and cool nights; this gives Tanzania a nice tropical climate with temperatures averages between 21 - 27 degrees Celsius during the day and between 12 and 18 degrees Celsius at night.
June and September is the cool season.
The "long rains" are from March to May and the "the short rains" from October to December.
The hottest moths are between October and February. Along the Coastal regions with its neighbouring Islands of Zanzibar, it rains in November and December and from March to May.
In Dar es Salaam city with the Coastal regions and Islands can be hot and humid although Sea breezes cool the area pleasantly between June and September.
Entry & Visa
For entry in Tanzania you need a valid visa with a biometric photo. Please take care of the visa early enough at the responsible consulate.
Your passport needs to be valid at least another 6 months and needs to have at least 5 empty pages.
In case of different personal circumstances please get advice from your consulate.
Since legal regulations in the country of entry may change, please observe carefully advices from responsible authorities and media, so that you are able to react early enough on such changes.
Should you encounter problems due to such changes, which may complicate or inhibit your travel, you do not have the right to withdraw cost-free from your travel contract automatically.

Flights
Please organize your flights yourself, that would allow you to get a reasonably priced ticket with your favourite airline.
Inform us about airline, flight number and arrival time via email and the driver guide will welcome you at the airport. In case of delays we will of course wait for you.

Hard facts
Capital City
Dodoma

Largest City
Dar es Salaam

Official language
Swahili (Defacto)

Area Total
945,087km2

Water (%)
6.2

Population
37,849,133

Currency
Tanzanian Shillings (TZS)

Internet TLD
.tz

Calling code
+255

Time zone
EAT (UTC +3)
Health
An important condition while travelling: you should be healthy and lively!
You will get information regarding infection protection and vaccinations in your home country, in tropical institutes as well as at a travel- medicine experienced doctor. Before starting your travel, please inform yourself about mandatory or recommended vaccinations for entry.

Yellow fever
Tanzanian authorities require a certified and valid yellow fever vaccination when entering from a potentially epidemic country (such as the neighbour country Kenya). A yellow fever vaccination must be received latest 10 days before starting the travel. The certificate of vaccination must always be carried along. As Zanzibar requires the yellow fever vaccination in general, we recommend in any case doing the vaccination and carrying the yellow fever passport always with you.
Malaria prophylaxis
Please get advice from a tropical institute or from a doctor with travel experience regarding malaria prophylaxis.
"Flying-Doctors"
Before starting your travel there is the possibility to sign an additional contract with the "Flying-Doctors", which guarantees your professional medical care also in very remote areas. Please contact us.

Luggage
Land cruisers have only limited space for luggage. Please do not use hard top suitcases! A soft travel bag with no more than 15kg/40,2 lbs is very appropriate for your safari.
Most of the hotels provide laundry service for an additional fee.
Not too colourful cotton/outdoor clothes are recommended. In some areas even in summer it can be pretty cold and even rainy. Therefore you might need one piece of warm clothes and a rain jacket. Solid shoes as well as light sandals should be included in your luggage.
For the evening meal and the sun downer you usually change clothes, casual is enough – shoes and shirts required!
In any case provide yourself with sun protection (hat, sunglasses and sun cream with protection factor 25 at least) and mosquito spray. In East African hotels it is not common to have mosquito nets, in cases of necessity please bring your own. Carrying a torch is a good idea; a pair of binoculars is a "must".
During your safari there are limited opportunities to buy photo articles and equipment. Please provide yourself with enough batteries and chip cards.